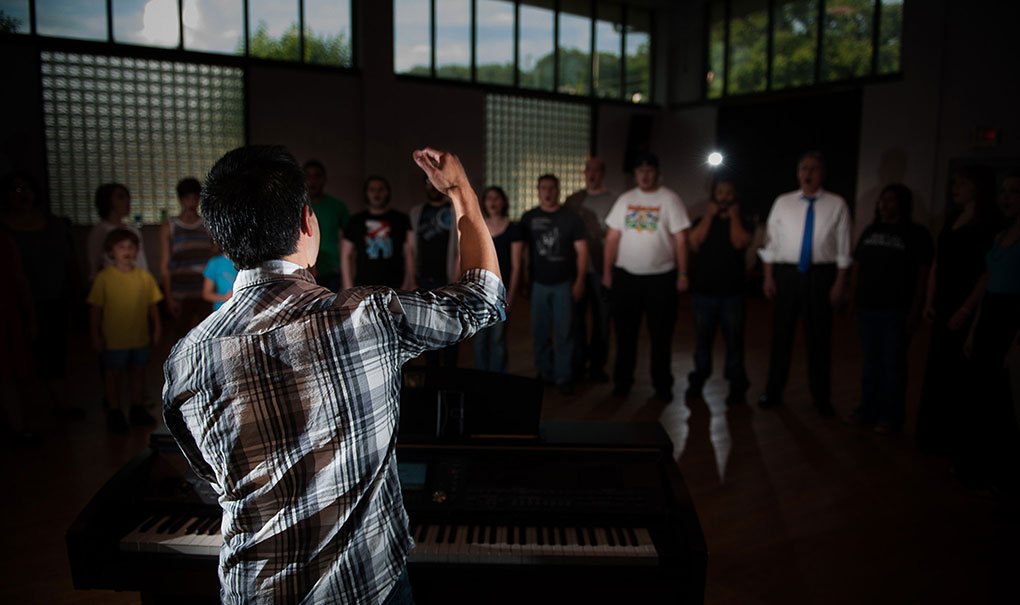 The Music of
Sound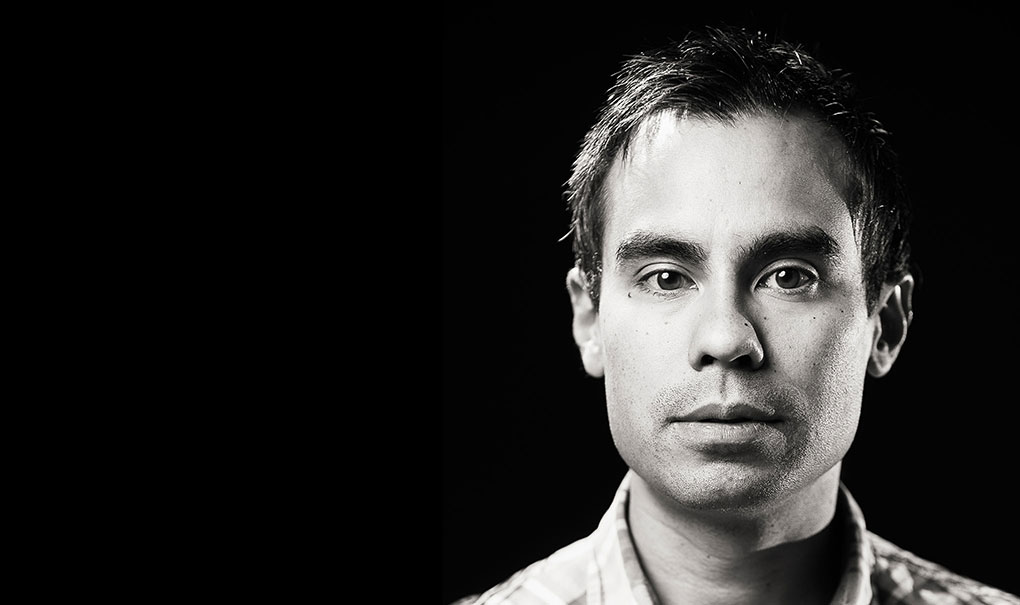 From a studio in an old Chattanooga church building, Tim Hinck is creating beautiful music, that's unlike anything you've heard before. Commissioned pieces, new theater explorations, experimental opera and more all start here — at a desk, a piano.
Tim Hinck's work is aural and visible, vibrant and subtle, classical and modern — the very definition of dichotomous. A Chattanooga-based composer, Tim has done more than carve his own niche in the music world; he's sculpted it, creating something very new, and very different, in a space where originality is no small feat.
His art is a climactic coming together of disciplines — visual, dance, theater, digital — each of which, in one way or another, intertwine with a sonic experience. Or even become a sonic experience in and of themselves.
"I want to explore in music what is being explored in contemporary visual arts," Tim says. "That hasn't been done very much. In terms of concept, the visual arts are way ahead of composition, and of music in general."
Tim immerses himself in critical art theory, and it shows in his work, as he takes what experimental artists are achieving in other disciplines and applies those principles to sound. The result is multimedia work for the stage, yet always from a composer's perspective.
Tim applies his method/madness both to smaller projects — typically, solo performance pieces that slant toward experimental — and larger projects for the stage, which are often more conventional.
But if this makes you think of Broadway, think again. Tim's work is a manipulation of sight and sound that awakens your senses, then abruptly misleads them — what was once visual, you can hear; what was once audible, you can see.
While people often refer to his approach as pioneering, Tim thinks of it as a natural expectation, fulfilled.
"This work is a natural response to the stimuli from our environment and our culture. In this technological, globalized society, interdisciplinary art helps us to work through issues of our evolution. That's nothing new: as a species, we've always used art to deal with where we are in history."
His latest project stands in a long tradition of ambition: the opera. The commissioned piece calls for a highly sophisticated, classical understanding of musical composition, and for Tim, it falls under the "traditional" category.
But even in this centuries-old art form, his test-the-limit tendencies are seeping in: inspired by a visual artist who recreates beautiful or valuable objects using crude construction materials, Tim is building an on-stage Garden of Eden out of AstroTurf and lumber stacks.
"There's a balance, I've found, between pushing the art and keeping my craft up. I consider writing music my craft, and it's very important to me to maintain that at a very high level. And of course, that influences what I'm doing as I experiment. That's the real future of the arts: finding a way to maintain the craft, while you push the concept very, very far."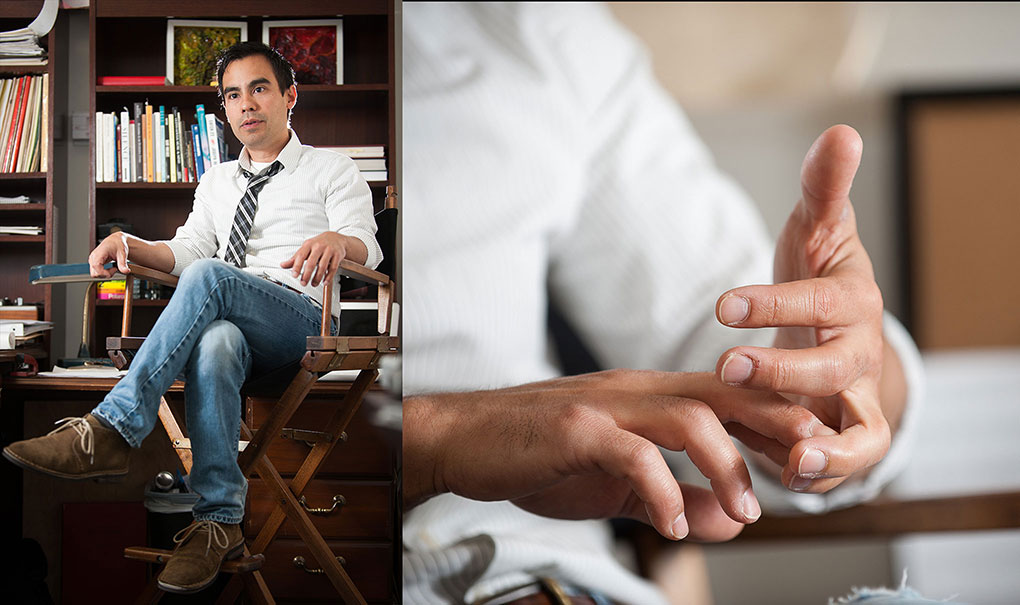 "As you walk down the stairs, you don't hear the music, but you're performing it and feeling it."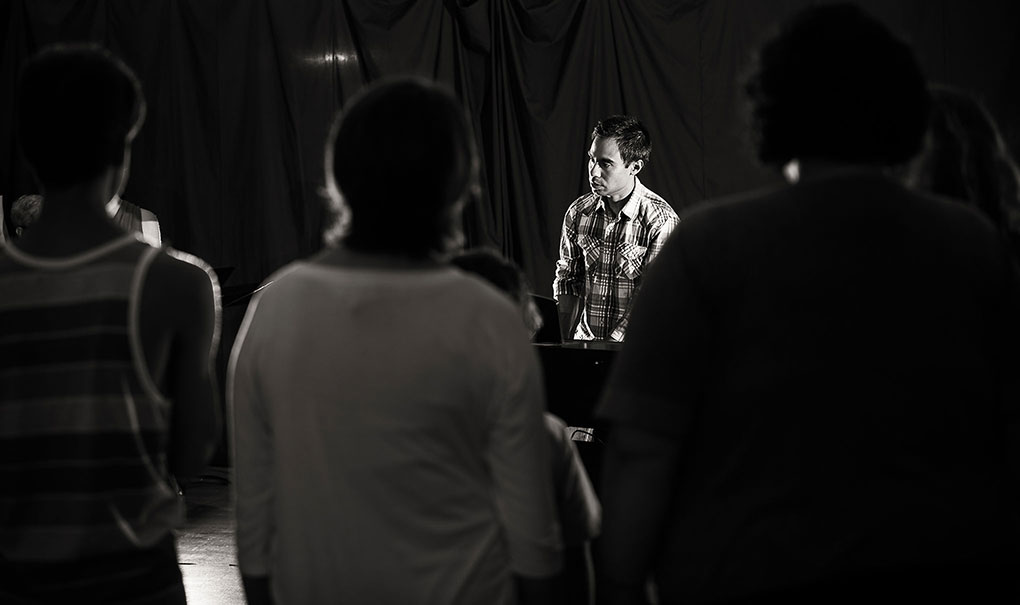 The depth and masterfulness of Tim's interdisciplinary work is, in a way, deceptive: until several years ago, his sole focus had always been classical composition, beginning with piano at age 6. He hadn't so much as dabbled in mixed media until a single artistic encounter completely reshaped his path as a composer.
It was a sculpture, a set of concrete steps installed on a New Mexico hillside by multi-media artist Bruce Nauman. Tim experienced the work via video, a camera panning slowly down the stairs in a tight shot, each stair-step a varying height. There was no sound, but for Tim, it was musical.
"There was a rhythm to the piece, as the viewer walks down the uneven steps: long-short-short-long-short-long, the basics of a musical composition. Probably the most basic musical composition you can make. As you walk down the stairs, you don't hear the music, but you're performing it and feeling it."
It was an epiphany. Tim had only recently completed graduate school at Rotterdams Conservatorium in the Netherlands, where writing music proved to be a struggle — for what reason, he's unsure. Upon returning to Chattanooga, where he grew up, the notes flowed seamlessly from mind to page. But they had evolved, created under this newfound conviction that music does not require sound. Melody, rhythm, duration — yes, but not necessarily sound.
The writing still comes easily in Chattanooga, but it's not the only reason Tim is here. Thanks to less competition for resources like space and talent, and to lower cost of living, he says a project that might take two years in New York can be completed in a matter of months in Chattanooga. And there's a quality-of-life consideration that's kept him in Tennessee, even when the bright lights of the big city call his name. Which isn't to say he'll never leave. Because while Tim is a unique kind of artist, he's an artist all the same: always hungry for something that's just out of reach.
"I don't know if I've ever created a work that I was truly happy with. It's tough damn work. It feels like there's this ideal that you're working toward, and you're never accomplishing, completely, what you're trying to accomplish."
"But I don't think an artist is ever satisfied with their work — because when you're satisfied, you quit. I do this for those times when I get one step closer to that ideal. It's a process, and it takes a lifetime."