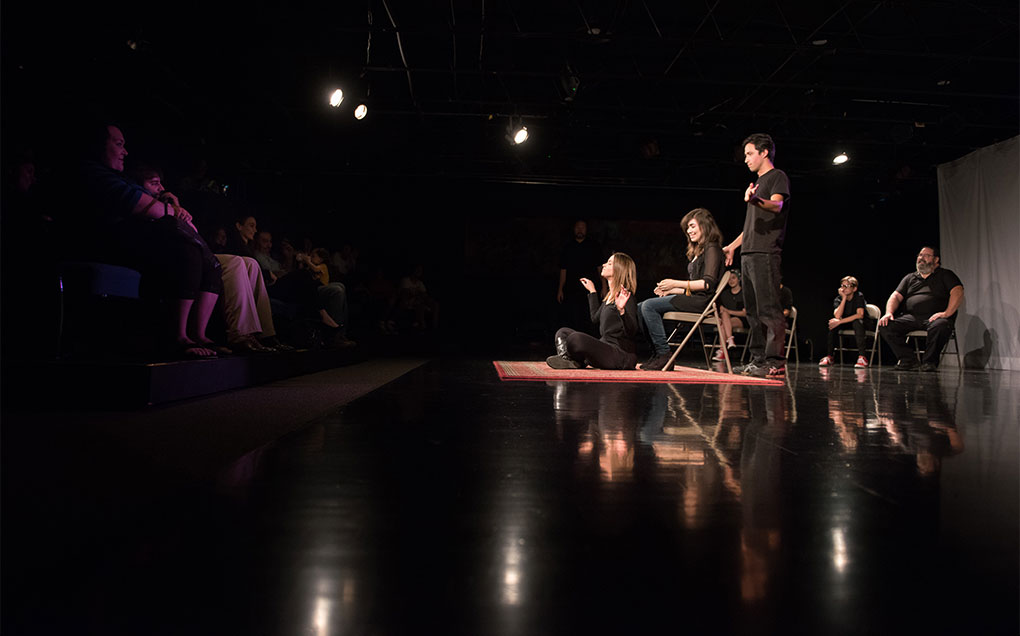 Setting the Stage
Depending on the evening, Barking Legs Theater can be one of many things: listening room, concert venue, acting stage, gallery space. At its core, though, it's simply a blank slate: a space that resists labels and attracts raw — sometimes weird, always fascinating — talent.
And that's exactly what its founders, Ann Law and Bruce Kaplan, intended it to be.
"We're all about taking on the orphans and plugging in the gaps," Bruce says. "We don't edit; we don't censor. We wake up our community by presenting work that no one else is taking a risk on. And in doing so, we give this city a real gift."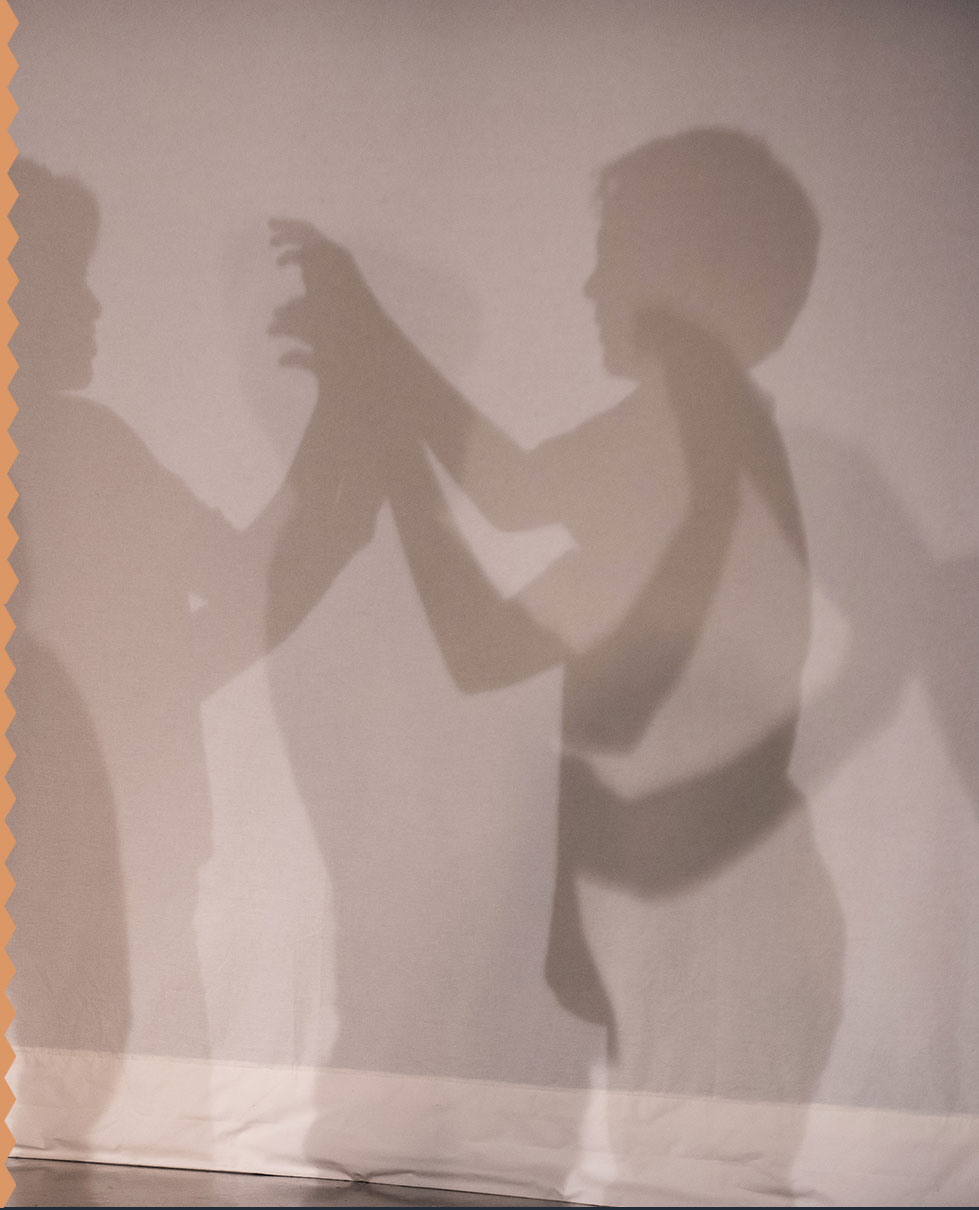 Since its inception in the early nineties, Barking Legs has remained true to its purpose as a bastion of quality performance that both pushes boundaries and affirms diverse forms of expression.
The audience has evolved over the years, and the theater has grown its smallish, cult following into a crowd that varies wildly depending on who's taking the stage. Barking Legs regularly features musicians, dancers, actors, storytellers and performance artists, and the acts are carefully curated by Ann and Bruce — which accounts, at least in part, for the theater's diversity.
"Our event schedule gets pretty eclectic — borderline ridiculous." Bruce says. "Ann and I have have an aesthetic common ground, and we like the avant garde, the experimental. But Ann is a choreographer, and I'm more into music. So when it comes to programming, we have separate areas of interest."
Bruce often veers toward the bluegrass genre — much to Ann's chagrin — but he says his tastes are more "chaotic," so Barking Legs also sees some punk rock and indie bands. Ann coordinates the theater's dance performances; she recently produced Red, a months­–long collaboration with 20 Chattanooga artists who explored the color red as it relates to anger about racial injustice.
Their curatorial styles complement each other, and it's what has helped them make a name for themselves in Chattanooga. But that took time, and they admit it was a struggle when they arrived in Chattanooga from New York City in 1990.
Bruce, a neurosurgeon, was pursuing his medical practice, so Ann opened a performance space in an old curtains­–and–­drapes store just down the road. Neither expected that their lives would eventually revolve around the shoddy, rundown space.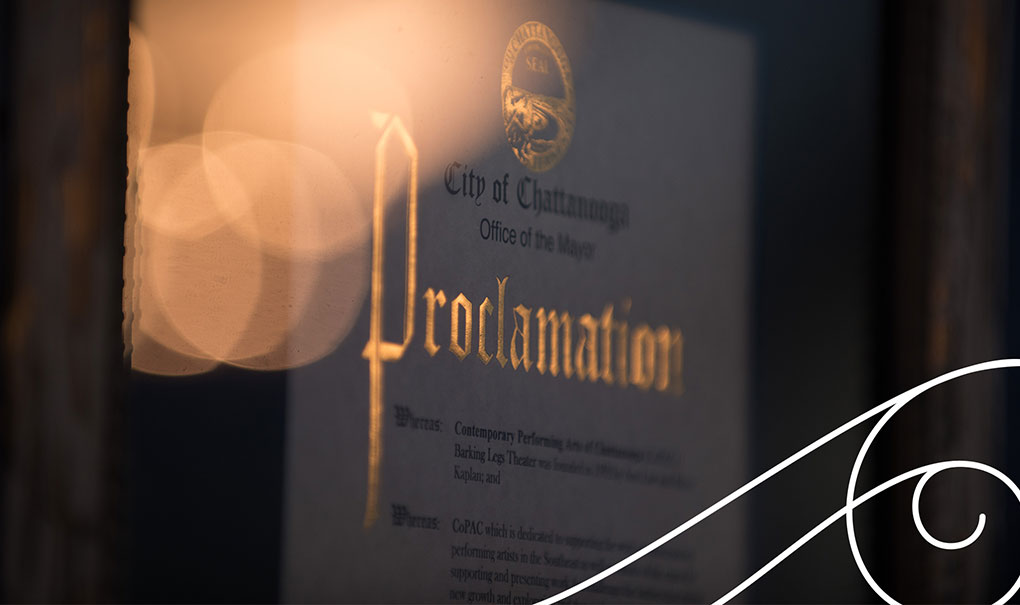 "The goal was simply to not lose money. We were always a nonprofit in the truest sense."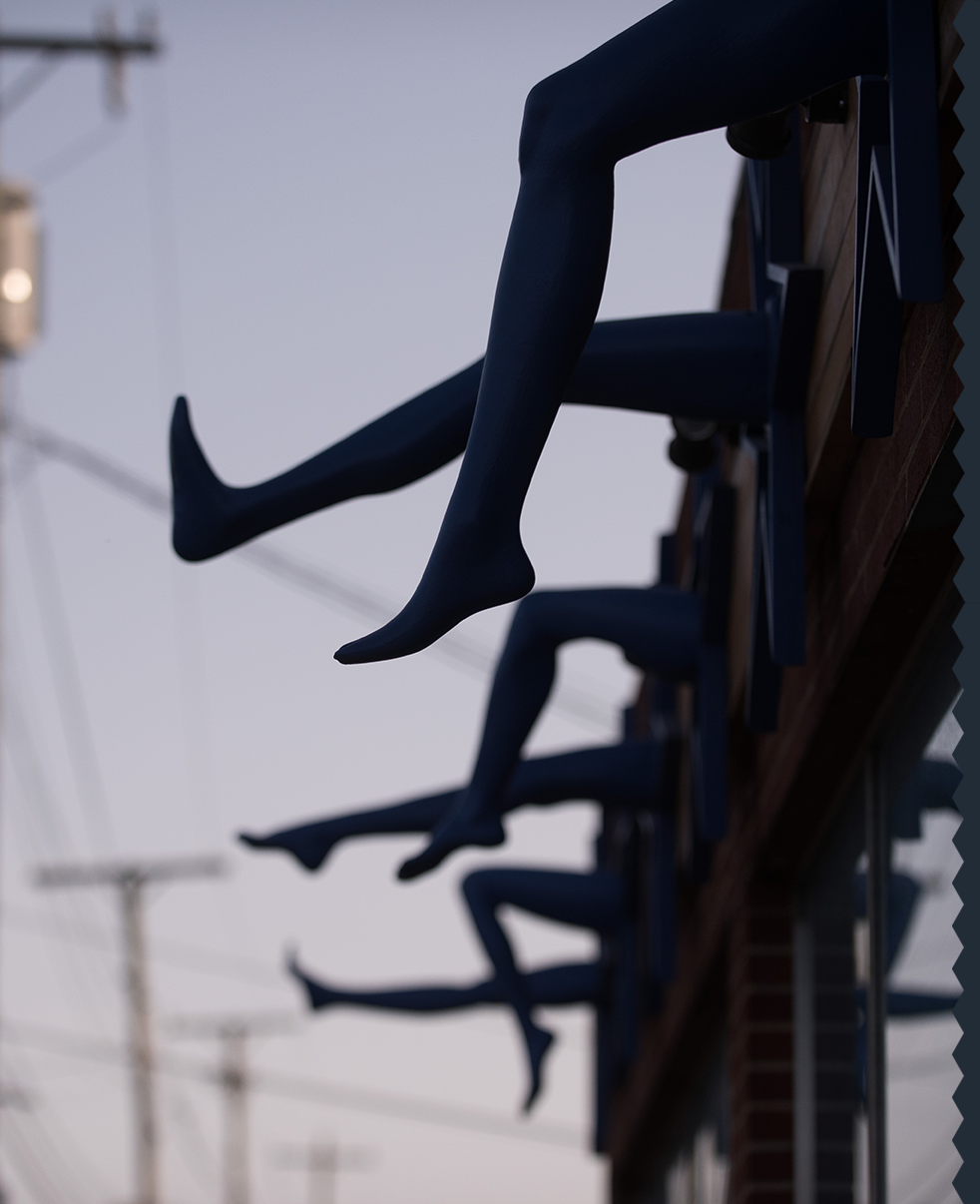 "So we stayed grungy for a long time, but it worked. The place had great bones, great acoustics. We kept the original feel and just improved the feng shui."
Coming from the fast­–paced, open­–minded big city, Ann and Bruce were constantly questioning social norms, which to them, seemed more stifling in the South. But it didn't take long for fellow boundary­–pushers to surface — people who weren't necessarily like­–minded, but who also valued the contributions of many different kinds of minds.
"We survived, and the challenge made it fun," Ann says. "There were those people who would tell us that we shouldn't be doing what we were doing, which made us even more sure that we needed to be here."
Support has come from many places. Barking Legs wouldn't have made it without grants and funding from Chattanooga foundations — a recent renovation was made possible by the Benwood, Lyndhurst, McKenzie and Community foundations, as well as community members through a Causeway fund–raising campaign — but both Ann and Bruce say it's always been about relationships with their performers, their audience and their friends, old and new.
The Shaking Ray Levi Society falls into all three categories and arguably has been the relationship most instrumental to Ann and Bruce's work, since they're the reason the couple came to Chattanooga in the first place. Founded by Dennis Palmer and Bob Stagner in 1986, the Shaking Ray Levis is a collective­–run nonprofit that promotes music, film and performance art.
"Dennis and Bob used to sleep on our floor in New York when they were gigging up there, and we stayed with them in Chattanooga," Ann says, "They're hometown boys, and they really opened the door for us in this space."
Their curatorial styles complement each other, and it's what has helped them make a name for themselves in Chattanooga. But that took time, and they admit it was a struggle when they arrived in Chattanooga from New York City in 1990.
Like Barking Legs, the Shaking Ray Levi Society harbors an appreciation for talent of an alternative nature — the funky, the offbeat, the underestimated or the unheard of. Dennis and Bob, musicians and performers themselves, worked together for years to nurture the artists who operated outside of tradition and convention.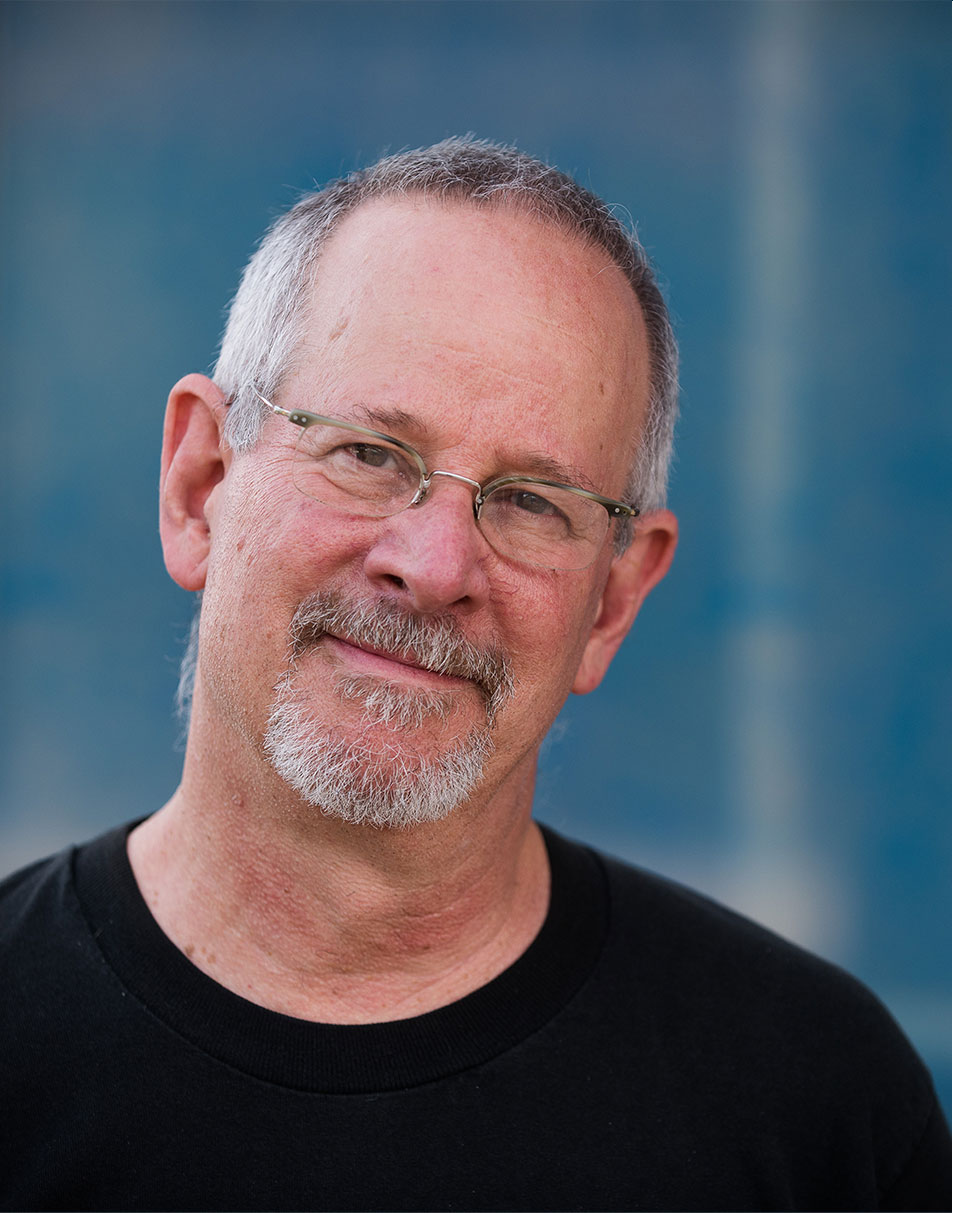 "We served as a model for other groups throughout the South, and our influence has shaped the Chattanooga music economy," Bob says.
Dennis passed away in 2013, but Bob has worked to put in place a board of sponsors and advocates to help carry the society's vision.
"Dennis's position was filled by half a dozen people and that's exactly how we envisioned it would go," Bob says. "He had such a broad and active role — it couldn't be filled with just one personality."
Music was the focus from the start, but their vision expanded over the years, so that now, the kind of artists that the Shaking Ray Levis support — and the way they support them — has no real bounds. The society's outreach also continues to grow; they regularly share their knowledge and skills in public workshops, and they often work with children and adults who live with physical or mental disabilities.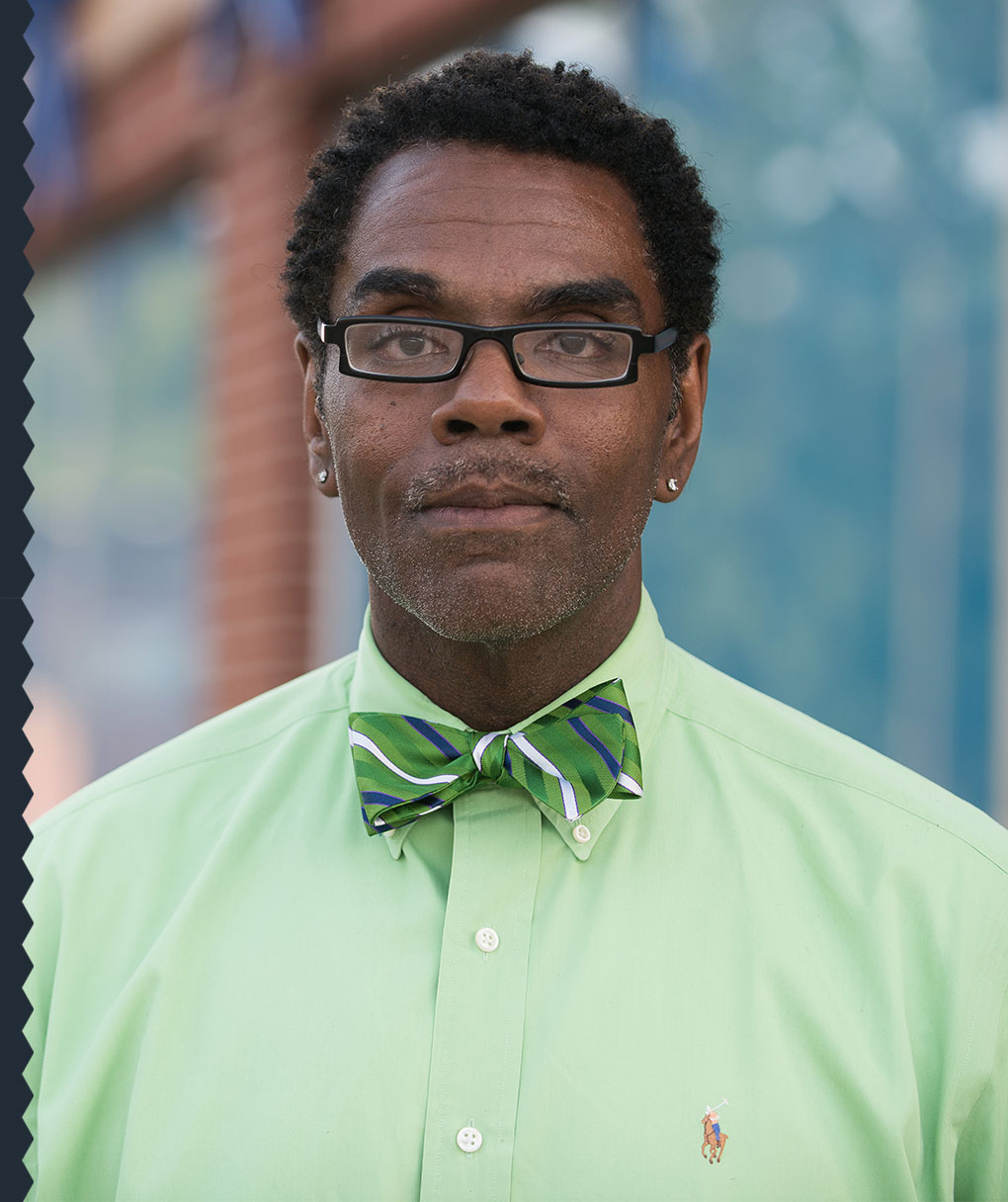 Not surprisingly, the Shaking Ray Levis have achieved notoriety far beyond their hometown, touring across the nation and collaborating with experimental artists like Laurie Anderson, John Zorn, Wayne White, and Howard Finster, and their educational initiatives have taken them as far as the Middle East.
It's ambitious work, and it moves in many directions. But if it sounds disjointed, it's not — because there's a common theme.
"It's all about new thought," Bob says. "That's what it's always been about. When was the last time you had a new thought? If it's truly new, it never existed before, and it shakes you to your core."
Bob believes that new thought comes about, at least in music, through improvisation. It's meaningful, it's powerful, and it's accessible to every kind of artist and audience. And for people like Dennis and Bob, and Ann and Bruce, that's the beauty of the alternative.
"We don't grow when we keep repeating ourselves," Bob says. "We don't evolve if we're always looking back. So from nothing, we create something entirely new: something sustainable from the void."