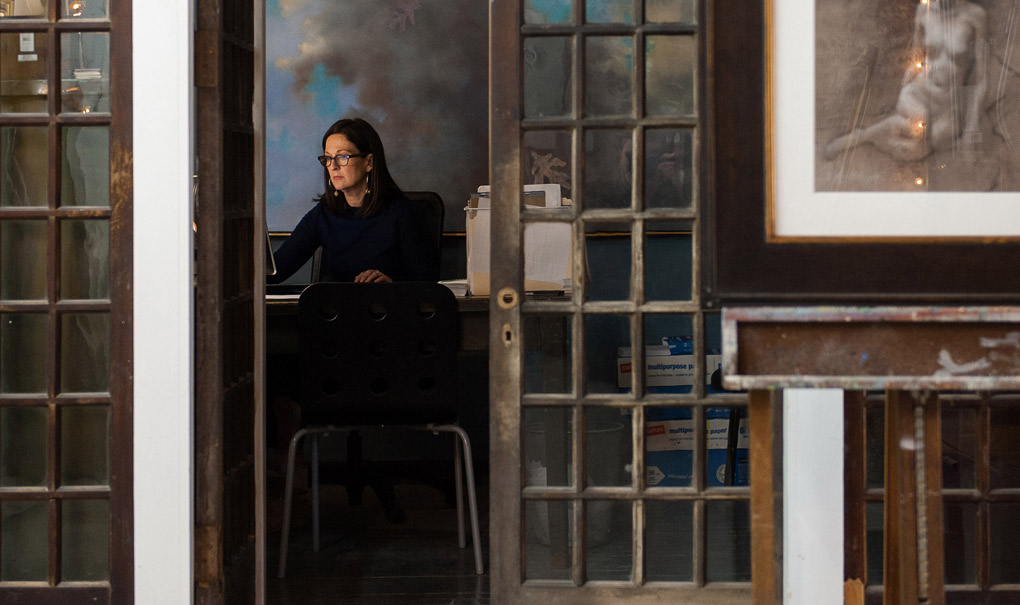 Art,
Taking Shape Apprentices
to the Masters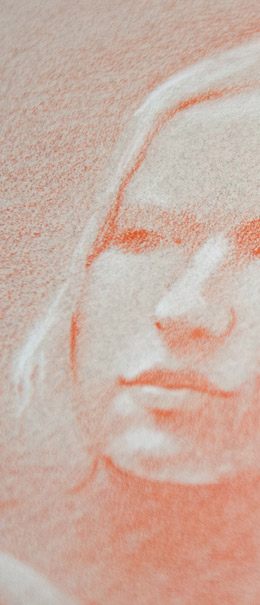 A look at the atelier model of art classes, imported from 18th century France to Chattanooga – alive and well at Townsend Atelier and Horsin' Around.
Atelier, translated from French, means workshop — an artist's studio. But it's more than a name for a space, it's a word made into technique. The overlap of professional artist and amateur, of teacher and student.
Modeled after medieval Europe's standard of artistic training, where masters led apprentices, the current atelier method is gaining ground in arts-minded communities across Europe and the US.
Here in our city, it has gained traction at an instruction studio tucked into the back end of a refurbished office building that faces Main Street. Townsend Atelier is the namesake and brainchild of Stan and Peggy Townsend, an artist and an arts advocate, respectively — and in some ways, interchangeably.
"People were eager for this, when we started it. They had been waiting for it," Peggy says. "Classes were full before we even got the walls up and finished out the space."
The studio is mostly open, longer than it is wide, with a small supply store to the side and a bit of office space in the back. It's comfortable and calm, bright and airy. You can tell that a kind of magic happens here – like all great classrooms, it feels alive even when the studio is empty, as if someone has simply hit the pause button. With half-finished paintings and easels positioned just so, a creative spirit hovers in the air, even after the creatives themselves have gone home.
That spirit is welcomed and nurtured here, through instruction in all kinds of visual arts: painting, drawing,
sculpture, print making, mixed media. What's driving this mission is the Townsends' two-fold creed: that the arts community is not exclusive (or rather, should not be); and that there is always more to learn. Which explains why, inside their studio, artists who have never touched a canvas are being taught alongside world-renowned oil painters.
This, in fact, is the difference between the atelier of old and today's current movement: it's not simply master-leading-apprentice; it's also master-leading-master. Depending on the day, or the class, teacher often becomes student. Since the focus is on the fundamentals, even a professional artist can always learn and improve.
The atelier model is not simply master leading apprentice, it's also master leading master.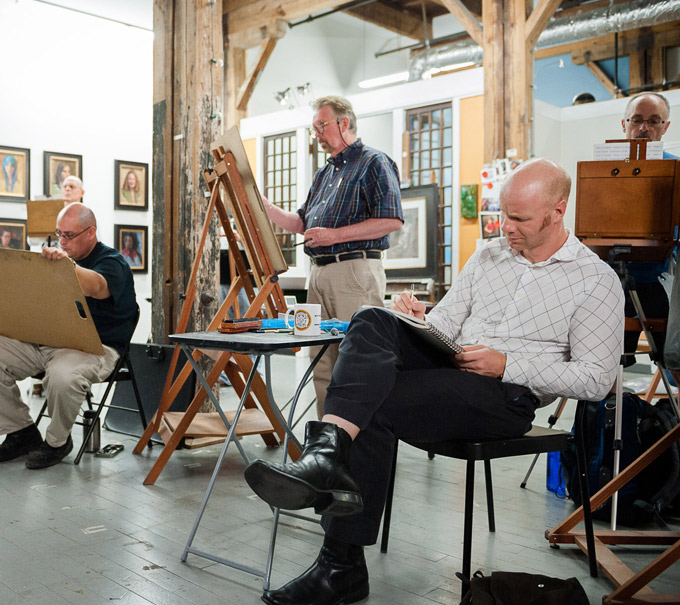 "The formal education system has failed in some ways," Stan says. "In our classes, we see people who graduated with art degrees, yet they can't draw, they can't paint, they don't know how to mix color, they don't know anything about perspective. I suppose they were trained in theory, so they can talk conceptually. But then, it's not really about art, is it? It's just about an idea."
The recent atelier trend is a backlash against purely conceptual art (more talking and less doing). In the past 15 to 20 years, ateliers offering back-to-basics training have begun popping up, mostly on the West Coast, with a few pockets in the Northeast. While the studios themselves are relatively few and far between, their following has grown rapidly. Which means that people will travel hundreds, even thousands of miles for a class.
In fact, the Townsends are quickly outgrowing their one-classroom studio. Demand is high, and Stan and Peggy are looking at spaces where multiple classes could run concurrently. That said, there is a beauty in the smallness of each class that they don't want to lose.
"There are some facilities that will just pack out their classes, but the instructors usually don't have enough time to go around to each student," Peggy says. "Here, we want the level of instruction to be intimate, and good quality. We could probably double the number of students in each class, but that would be a horrible experience. So we bring in rock star instructors, famous for their craft, from around the country. But we also cap the classes at about 12 students."
"Many of the instructors are very giving. They develop relationships with the students, and they continue to correspond with each other," Stan says. "And the instructors love being here. They're blown away by Chattanooga, what a great surprise of a city it is, and the quality of the students. They're always so willing to come back."
For the Townsends, it's a rewarding experience, knowing that they're not only growing the arts community, but also supporting it by providing income to their instructors – who are professional artists trying to make a living. But they acknowledge that, for themselves, the atelier is a passion, rather than a money-maker. In one way, this is unfortunate, given the time, dedication and selflessness that goes into creating and running such a place. But it also imparts a pureness to the effort. It's a labor of love, in the truest sense.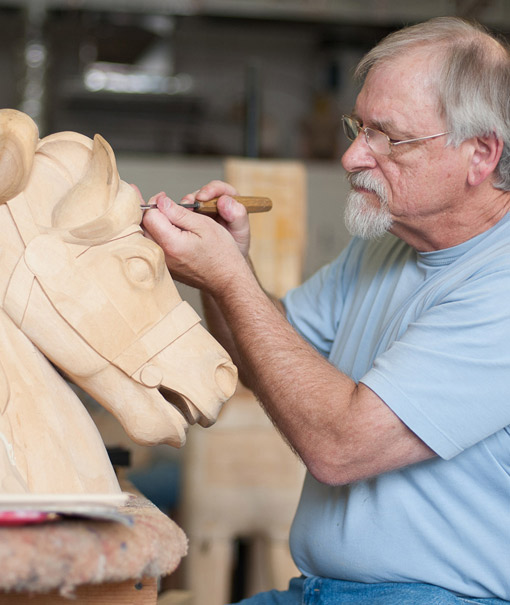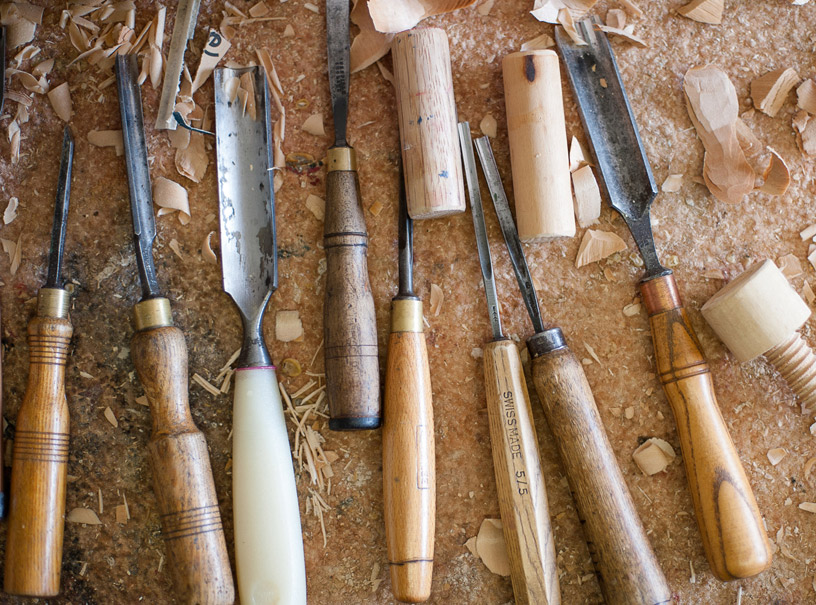 In their passion, and their commitment to teaching craft, the Townsends aren't alone in our city. Although they are Chattanooga's only atelier by name, other iterations of this method have grown up in the area.
Horsin' Around is a woodcarving school that produces carousel animals. At first glance, it seems less fine arts, more sawdust – but the interdisciplinary skills and attention to detail are every bit as demanding. The sheer amount of time that it takes to conceive, carve and paint a carousel animal is incredible.
Since the 1990s, Horsin' Around has drawn students from around the world who want to learn from Bud Ellis, the school's founder, and Larry Ridge, carver-in-residence.
"The traditional carving techniques from the 1800s and early 1900s are fading out fast. I don't want to die before sharing this knowledge," Larry says. "My goal is to build a community of woodworking people."
Like the Townsends, Larry sees a mix of students. Some identify as artists, others would never dream of doing so. But they all share an urge to create.
"You gain a greater appreciation for art when you come in here, but more importantly, you gain an understanding, specifically, as to what's required to produce it," Larry says of the students who watch, learn, and ultimately undergo the full experience of conceptualizing, planning, carving, and finishing a piece. "The art community has benefitted and grown because of this: we're creating people who were not artists before, and are now."
As the atelier movement grows, it might help bring a new answer to the age-old question: What makes an artist?
Even better, it might help shift the conversation. Rather than trying to define, or redefine, what an artist is – the atelier describes the world in which any artist lives, on a day to day basis. A world of fundamental skills, of long practice and patience, of doing rather than simply talking about it. A world that he or she reveals, unearths, creates.
"Today, especially, art is cloaked in this mystery," says Stan. "But it shouldn't be. That's why we're doing this. Yes, we're painting and drawing, sculpting and printing. We're teaching the foundations. But what we're actually doing is making art accessible and approachable. The atelier, when you get down to it, is simply demystifying the process."