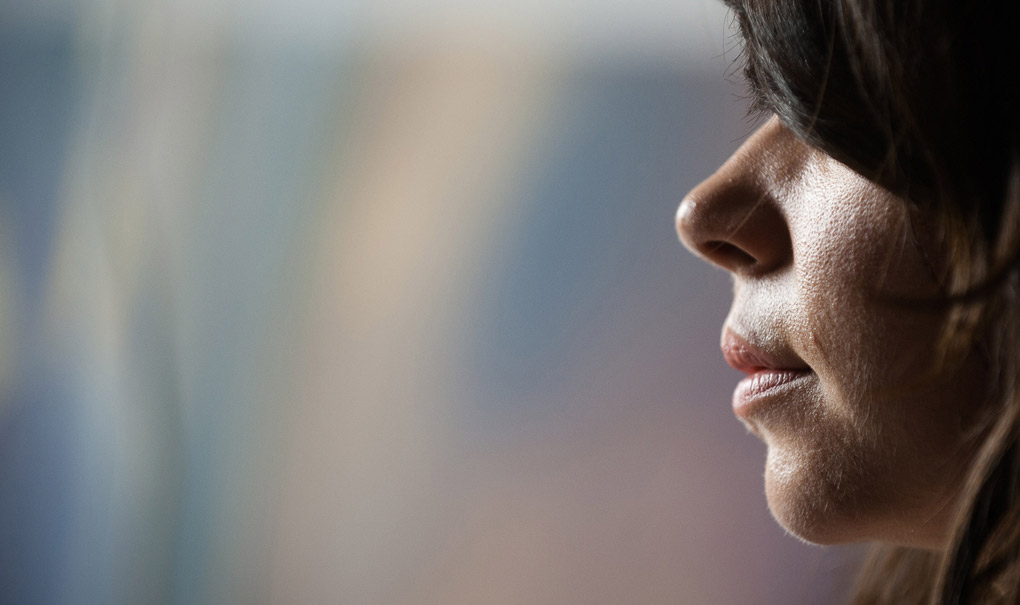 A Portrait
of the artist
As a young woman
Mia Bergeron's studio is quiet, but filled with north light. We pay a visit to one of Chattanooga's leading figurative painters, who is redefining how we look at the portrait.
---
On the corner of 14th and Williams Streets, up a quiet stairwell and down a maze of hallways, a dim entryway leads to a small, single-windowed room. Paintings are scattered about, some hanging, others leaning casually against colorless walls. Between the easel and furniture – chairs, bench, shelves crammed with books – there is little space to move. It's the opposite of ostentatious. The kind of place where work gets done.
Even before Mia Bergeron steps into the room, it feels like her space.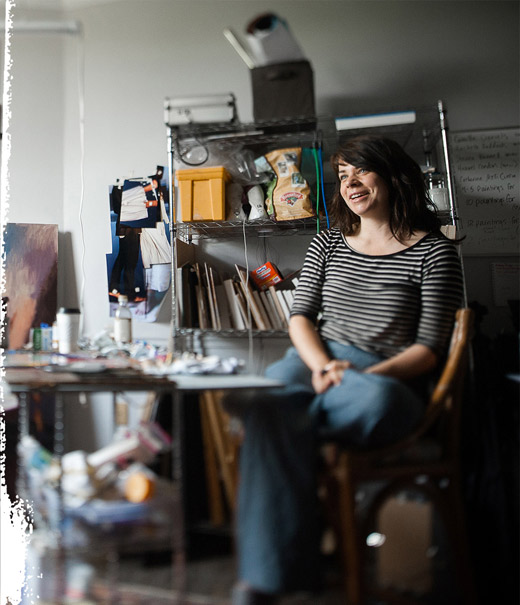 "I'm mostly a hard worker. I try to average 40 hours a week painting," she says.
She can't remember a time in her 32 years when she didn't want to be an artist, or understand that natural talent and formal training can only take an artist so far. Born in New York to a pair of graphic designers, Mia was encouraged to explore her gifts from an early age. She remembers, at 12 years old, creating a grid of 12 x12 squares on a blank piece of copy paper, and drawing a different person in each square. 144 tiny faces, looking up at her, from the page.
Oil is more visceral as a medium. You can do more with it because you're working in color, you're working in different textures.
"My parents were the kind of people who, if I told them that I was going to be a doctor, they would say: 'What did we do wrong?'" says Mia.
In 1998, she was admitted to the prestigious Rhode Island School of Design, but chose to leave after a year of foundational classes. She moved to Boston and took a job at the Museum of Fine Arts.
"I spent every day in the museum, would even eat lunch there, with John Singer Sargent."
This love took her to Italy in 2002, for an intensive year of drawing, followed by an immersion into oil painting.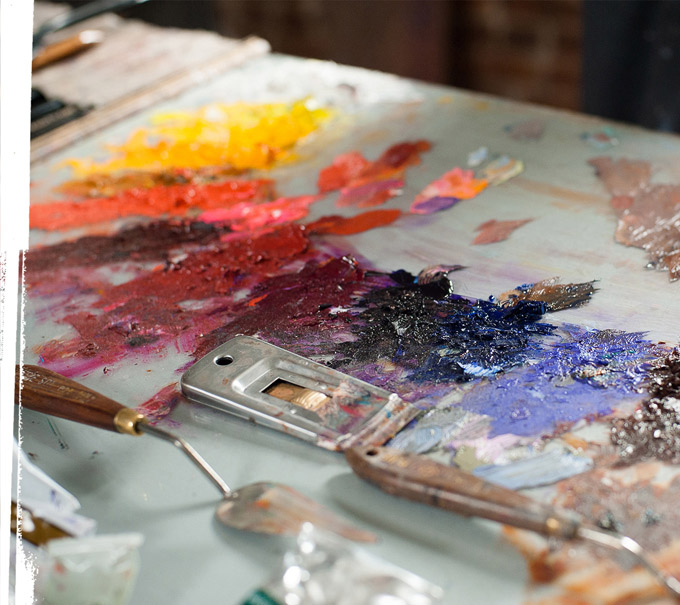 "I thought, 'I never want to touch a pencil again,' she says. "Oil is more visceral as a medium. You can do more with it because you're working in color, you're working in different textures. Layer, go really thick, wipe, scrape."
In the years since, as she has shifted her medium from drawing to paint, her subject is the same one that held her gaze as a child. Always people, born out of observation, from photographs and from life.
"I look at people a lot; I look at landscapes a little less. Mostly it's what interests me. I can get into different concepts, looking at the human figure more."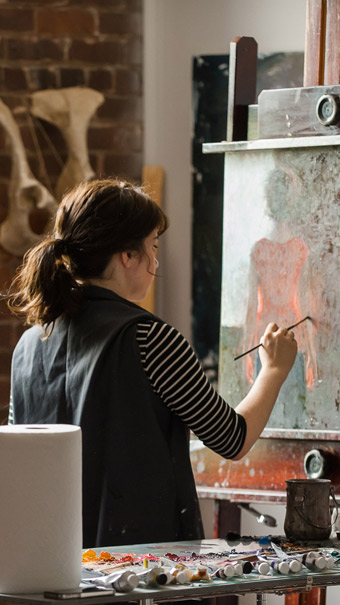 Mia returned to the States in 2006, to live in Atlanta. She was formally trained, yet unsure of what to call herself.
"I was so used to saying that I was an art student, or a teacher," she says. "When you call yourself an artist, you are accountable for what you make. It becomes very personal. But someone told me that if you said it 60 times, then you are one. So I started saying it when I moved to Chattanooga."
The move up from Atlanta was prompted because she had heard chatter about "a town that was giving money to artists." Building upon her work from Italy, Mia was awarded an Emerging Artist Grant from the 4 Bridges Art Festival. She assumed that she would spend a few months here, then move on. That was eight years ago.
"Like everybody else, I got sucked into the Chattanooga vacuum. It's a really positive, vibrant scene," she says. "I've been traveling a lot over the past two years, mostly on the East Coast. I keep coming back to Chattanooga. There are a lot of artists, there's a great educational focus."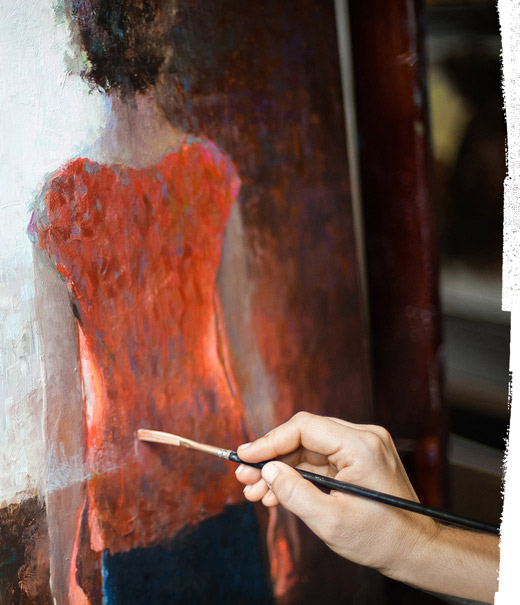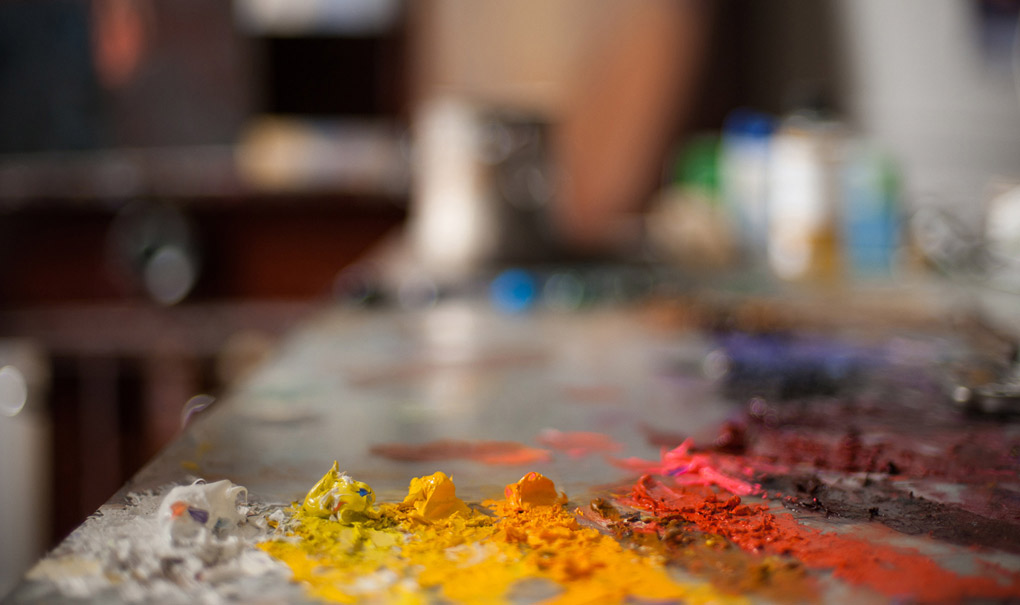 Her work has tapped more and more into vulnerability, raw emotion, yet still with the strong hand of a classically trained figurative artist.
While support for the arts is strong, Mia says that the buying community is still maturing. So to make a living, she sells her work almost exclusively in larger cities – through galleries around Denver, Charleston, and D.C. The sales have enabled her to move away from commission portraiture to focus on gallery work.
However, even with recent successes, there are still days that she falters.
"Failure is part of this. Failure is part of what I do. I have Ellen DeGeneres days – where I have the whole speech planned to be on the Ellen Show; and Walmart days – where I am ready to quit everything. Sometimes both in the same day."
This kind of candor, transparency and personal honesty, is evident not only in her words but in every canvas around the room. And perhaps most famously in her longest-running project.
Every year since her seventeenth birthday, Mia paints her most vulnerable subject: herself.
The most recent of these portraits have been less representational, and more about what is happening in her life. Her headspace.
"They have become more abstracted, for sure. This past year's portrait was a lot harder than usual, and the painting I did was the most emotional," she says. "There's a painting going on, and all of the sudden, at the end of it, I say: 'Oh, that came out. Whether I wanted it to or not.'"
The tricky thing about painting professionally, she says, is that you're at the mercy of your own feelings.
In fact, in the past five years her work has tapped more and more into this vulnerability, this raw emotion, yet still with the strong hand of a classically trained figurative artist. The combination has caught attention of galleries and collectors – and continues to drive her success.
"In a word, it's exhausting. But that's when it becomes meaningful. I'm not a fan of art that is just beautiful. I'm not a fan of art that is just shocking or sad,". "I have a tendency to be drawn to things that are a little bit of both. Art represents life. And life is a little both of both."